Exhibitor Technology Forum
The Exhibitor Technology Forum will be held in the Exhibition Hall.
Exhibitors will make presentations in a seminar format, and all attendees to the exhibition can attend.
Venue: Exhibition Hall
Fee: Free
*To attend the Forum, attendees must register for the Exhibition.
*Topics and presenter names are subject to change
*The information of the attendees of the Exhibitor Technology Forum may be read via the barcoded name badge.
There may also be a possibility that attendees will receive information from the presenters of the Forum.
Program
Presentations to be made in English are as follows:
*For a full list of presentations, please refer to the Japanese page (information in Japanese only).
May 15 (Wed.)
Time
Company
Title
Room
12:55-13:25
DSM Nutrition Japan K.K.
「Regu ®-Fade」- Nature identical substance Resveratrol
D
14:55-15:25
ISP (Japan) Ltd.
Dermatopontin plays an essential role in secretion and organization of dermal extracellular matrix in vitro, ex vivo and in vivo studies
B
May 16 (Thur.)
Time
Company
Title
Room
11:35-12:05
LIPOTEC
Increase cell longevity by correcting genomic errors

D

15:35-16:05
Inolex Chemical Company
Inolex-Maximizing Performance with Multifunctional Ingredients

B

May 17 (Fri.)
Time
Company
Title
Room
10:15-10:45
ISP (Japan) Ltd.
Adult Stem Cells in the skin and the benefit of maintaining the Stemness Potential
B
10:55-11:25
DSM Nutrition Japan K.K.
ELHIBIN PF retains youthful skin elasticity 
C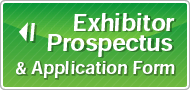 Organized by
Federation of Japanese Cosmetic Ingredients Associations
Co-Organized by
Supported by
Japanese Cosmetic Industry
Association
The Cosmetic Goods
Association of Japan
Inquiry
CITE Japan Secretariat
c/o ICS Convention Design, Inc.
Chiyoda Bldg., 1-5-18
Sarugakucho, Chiyoda-ku,
Tokyo 101-8449, JAPAN
Tel: +81-3-3219-3647
Fax: +81-3-3219-3628
E-mail: cite@ics-inc.co.jp