CITE JAPAN 2023 Award
The Cosmetic Ingredients & Technology Exhibition Japan (CITE JAPAN) will select and award the materials, packages, tools, equipment, techniques, and services (exhibition items) displayed at CITE JAPAN 2023 that contribute to the cosmetic industry and have superior innovativeness, sustainability and usability.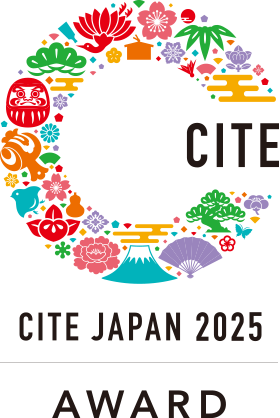 Overview
Preliminary review (Done)
Self-recommendations




by exhibitors

A total of

10 nominees


will be nominated by the judges


(5 in each category)
During the exhibition
Voting by the visitors

The award-receiving ceremony


May 19 (Fri.) 11:00
To be held at the Award Corner
Departments and Judgement Points
Environment Category
Products, technologies, and services that take the theme of product development and technological innovation, with an emphasis on the use of sustainable resources, as well as efforts to realize the next generation's high consideration for the global environment will be in this category. Entries not only from industry-related perspectives, but also from a wide range of topics that are highly affinity for SDGs and ESGs will be chosen.
Technology Category
In the cosmetics market, where diversity and change are remarkable, the subject is not only product development by new ideas, but also manufacturing methods using new technologies, products and services for innovative containers and formulations. Entries of innovative themes from the end-user perspective as well as from the perspective of industry officials will be chosen.
Award Winners
The winners were decided by votes of the visitors to CITE JAPAN 2023.

Environment Category

Booth No: B21-06

The cleaning agent for removing various kinds of oils adhered on the emulsifying machine
Technology Category

Booth No: B4-10

Disodium Cytidine Phosphate

Environment Category

Booth No: D17-06

SACRAN
Technology Category

Booth No: B18-06

Surfactant-free emulsified powder technology using montmorillonite

*alphabetical order by category
Environment Category

Booth No: N13-17

AMYLOPECTIN POWDER F
Environment Category

Booth No: D9-06

「SHIKAN」 Container
Environment Category

Booth No: N11-32

Himelium™, a beauty ingredient derived from Morning Star Lily (Lilium concolor Salisb. var. mutsuanum Makino), developed by Revival Project ""Save the precious Beauty"" - Conservation of Endangered Species x Development of New Technology for Useful Beauty Ingredients x Community x Human
Technology Category

Booth No: B2-05

caressense™ biofunctional
Technology Category

Booth No: A3-08

Rootness Mood+ active ingredient using Plant Milking technology
Technology Category

Booth No: N1-03

ALTHEOSTEM™